Customer engagement has been a prime concern of marketers for a number of years now. It is expected to contribute to the main relationship marketing principles of customer repeat patronage, retention and loyalty through affecting the customer experience (Verhoef, 2016 and Kumar, 2017). The growing interest in this area is in correlation to the rise of social media as a marketing strategy for businesses. In less than ten years, social media has revolutionised not only businesses' communication culture, but how business is conducted. The 24-hour access to people and information has transformed the various tools into a game changer (Campbell, 2010). There are 3.58 billion internet users worldwide —and over 2 billion of them have active social media accounts (Statista, 2018). Social media is one of the top reasons people go online. Regarding the United Kingdom (UK), 64% of the total UK internet user population have at least one active social media account (Statista, 2017). Popular social media platforms include: Facebook, Twitter, LinkedIn, Instagram, Pinterest, YouTube and Snapchat. These platforms have created a whirlwind of opportunities. They have given businesses the ability to listen to what consumers are saying publicly, as well as the opportunity to strategically network and close deals based on shared interests and personal engagement. Social media is increasingly becoming "the vehicle for the voice of people and consumers worldwide" (Singh et al., 2012, p.683) – it allows consumers to become influencers by prompting their network to buy a product or use a service.
Academics, such as Hollebeek et al. (2015) and Kumar et al. (2016) write how it is businesses' social media content that determines the level of customer engagement.
So how do you give a business social page a personality as big as Kim Kardashian? As a media professional, and probably more importantly, a social media addict, I have detailed the top three best practices below.
Know your audience
This first tip is crucial across all your marketing communications, it determines the success of any campaign. Your audience need to get you, you need to get your audience. You need to understand why @pacman20302 likes, comments or share your post. Take the time and go on to your followers' pages and gain an understanding of them, see what they post and share. On Instagram, you can even see what they like. By understanding them (your followers), you can align your content into something they will like and engage with – possibly even talk about with their friends and become strong followers of the brand.
Playing on news stories
It goes without saying, reactive advertising is most definitely the most impactful form in terms of generating consumer engagement. It can be extremely difficult to carry out on channels such as Out of Home or TV, whereas social channels breed on reactive advertising. Piggybacking off a high-profile news story can get you thousands of likes overnight. It can generate free PR for your brand and see a short-term sales lift for essentially free activity. The below tweet shows how Burger King responded to the explosion on twitter during the 2015 Miss Universe Contest where Steve Harvey announced the wrong contestant as the winner, and her crown was taken. Burger King quickly jumped into the conversation, saying its iconic crown was one crown that everyone could keep.
If you ever find there is a news story dominating the headlines and you feel your brand will fit into the conversation but need some guidance in how, get in touch and we can certainly help in assisting your brand in #BreakingtheInternet.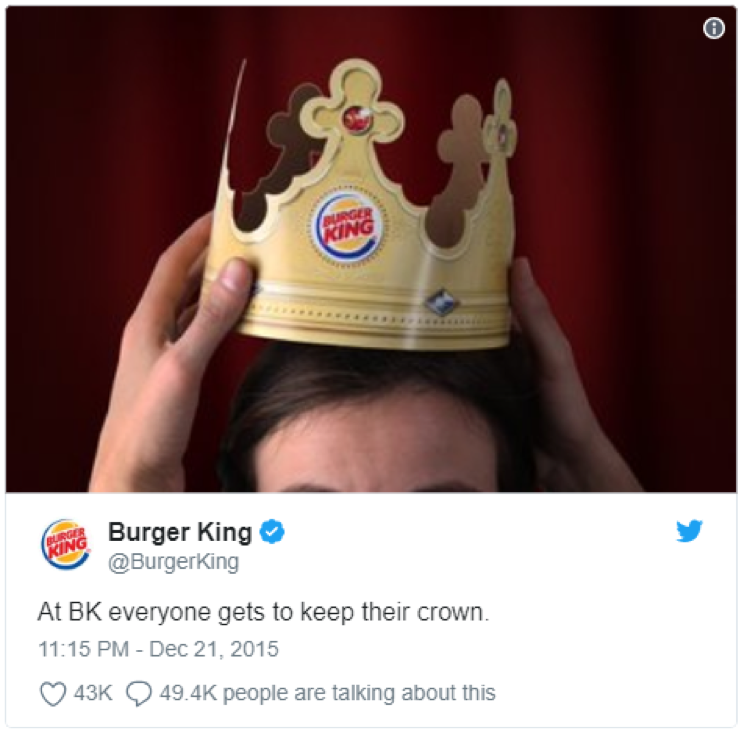 Make use of the app updates
To me, it seems I get notifications daily to update my social apps to allow for its new features. These new offerings are largely designed to encourage engagement, i.e. how you can now do polls on both Twitter and Instagram, and Instagram's latest update allows you to rate your feelings towards something on stories. The hype around these updates are news stories in themselves. The brands who utilise these features first, will benefit from it. On Instagram, as soon as they launched their price tag feature, H&M were certainly one of the first brands on my feed to make full use of it, and they have stuck to it, making it a part of their house style. Not only does this feature help H&M sales, but it makes it easier for H&M followers to purchase the items they want. It seems senseless for a brand who offers products online not to utilise such a feature, yet, majority of brands on my feed do not use the price tag feature on their products. To me, it says they are not proactive and have not got their consumers wants at the centre of their values.
Again, if you find yourself with any questions on social media and feel you could increase engagement with your online audience, get in touch at info@ardmore.co.uk.